Shopping Cart
Your Cart is Empty
There was an error with PayPal
Click here to try again
Thank you for your business!
You should be receiving an order confirmation from Paypal shortly.
Exit Shopping Cart
"Seabreeze solar panel ​c​leaning service"

Established 2017


​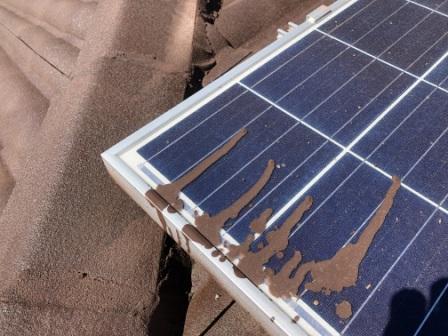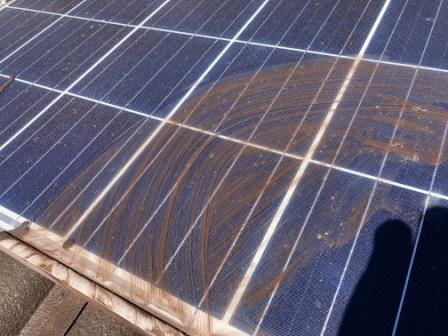 Oops! I accidently got a small amount of paint on your solar panels, sorry, don't worry it comes off easily?????

Well it is that time of the year again, the sun is starting to shine for longer periods, the birds are breeding and it is getting warmer. It is about this time of the year we start making our way back outside from the protection and warmth of our abodes. Now we can get serious about the outside maintenance tasks. A lot of people who have solar panels look up on the roof and also notice the roof may be in need of a good spruce up. You may even have had a couple of water leaks during the winter period and now everything has dried, it is time for repair work. One of the best ways to kill two birds with the one stone, is to get your roof repaired and to get your roof repainted to brighten every thing up.
Well I am sure you have spotted the photo's by now!!! In the last month there has been 3 times in which I have either been called out specifically to clean painters overspray off solar panels by painters, or customers have rung me to come and inspect their solar panels because they have just had their roofs painted and they have some concerns of overspray.
The latest customer was happy for me to share the photographs with you.
Now before anybody starts thinking that I have a gripe with all roof painters, the fact is I don't. Most of the people in this trade are truly professionals, being that most of my time is spent on roofs I can vouch for that. However in all industries there is always the few that are in the business for no other reason than making a quick buck and don't care if the outcome for the customer is bad. Quality painters take pride in what they do, they may be slightly more expensive, but for most of the time their reasons are truly justified. They spend a lot of time in prep work and one part of the prep work is covering anything that should not be oversprayed, this always includes solar panels and solar hot water systems.
Now for the clean up explanation
The best protection for solar panels is, cover them before painting!!!!!  It is seriously that simple. Give them a good clean afterwards, this saves everybody money and anguish in the long run. Properly and effectively cleaning paint from solar panels is very time consuming and  expensive.
Remembering that the majority of solar panels have specialised coatings on them, whether it be anti reflective or hydrophobic coatings. These coatings don't like harsh chemicals being applied to them, and solar panel manufacturers take their coatings very seriously. Effectively, if you damage any of the coating with chemicals that are not recommended by the manufacurers, "kiss" that important warranty of yours goodbye.
I have been in touch with a couple of the manufactures of which overspray has been applied and their response was, there are no chemicals that we reccomend or believe are safe to remove paint from our solar panels, and if you use chemicals or any scraping tools that damage the coating, the warranty will be voided. Are they being harsh? Not in the slightest, their remarks about the painters who didn't cover up the panels was very colourful though!
The only recomended way I have been told for removing overspray is with a clay block. This is slow and lengthy, mainly because you still have to be very careful as to not remove the original coating applied to the panels during the manufacturing process.
Words of wisdom  If you decide to get your roof repainted and the painting contractor says they don't have to or will not cover your solar panels, be very concerned, and get another contractor, because that's what some contractors have told some of my unhappy and disappointed customers. Get a painting contractor that ensures you through a guarantee that your panels will be completely protected from any overspray or damage by them.    

/